Whoa! Newlyweds Celebrate Wedding with Pizza Portraits
Product Information
If we could eat any food every day for the rest of our lives, it would be pizza. But even we were shocked to read about newlyweds Kieran and Natasha Morris' wacky wedding request: They asked Domino's to recreate their faces on pizzas!
"We order Domino's pizza all the time — so it felt right to incorporate them into the most special day of our lives," the groom tells The Daily Mail. (Mr. and Mrs. Morris aren't the only newlyweds to ask their favorite brand for a wedding favor — check out the amazing surprise that Honda gave to this couple.)
The company was happy to oblige, commissioning celebrity portrait artist Nathan Wyburn to do the honors. It took him three hours to create two 13-inch pies in their likeness using a variety of toppings (including tomato puree, sweetcorn and ham). Wedding guests were more than happy to dig into the masterpieces at the wedding reception, which was held in Lancashire, England.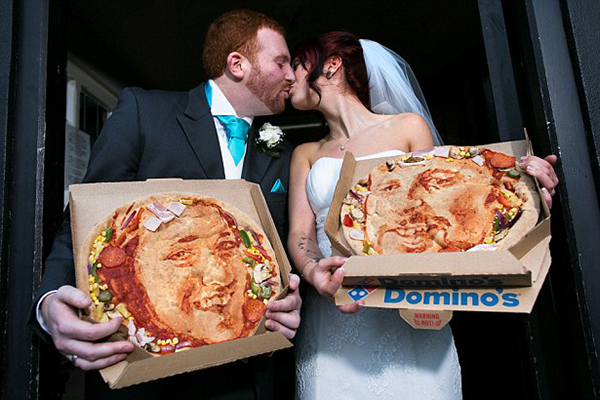 Photo Credit: The Daily Mail